Madi Frink – Working with high school students, their teachers, and their families in Orlando, FL.
Click here to show your interest in serving on Madi's Outreach Care Team.
ABOUT…
Teenagers are like wet cement waiting for someone to leave an impression. Within these identity shaping years someone or something is going to leave a lasting effect on their lives, the only question is who's it going to be?
As I walk onto high school campuses in Orlando, FL I want to leave an impression of the gospel. I've experienced that students have a deep desire to be known, heard, and loved that can ultimately only be satisfied through a relationship with God, their creator. Over 75% of Christians say that they made the decision to follow Christ before their 18th birthday. I LOVE introducing students to Jesus and watching as they multiply their lives and share Him with their friends. Together with my ministry team we're building relationships with kids in the local schools and creating a safe place to have authentic conversations about spiritual things. In different atmospheres from weekly Cru meetings after school, small group discussions during the week, and one-on-one mentoring sessions I'm passionate about making space for these teenagers to encounter Jesus.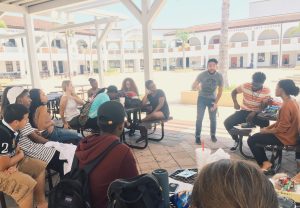 In 2016-2017, we saw 238 students in Orlando decide to follow Jesus!
As we continue to share the gospel and invite them to believe in Jesus I'm trusting that God is preparing even more hearts to hear and believe. Through evangelism and discipleship my prayer is that God will move mightily in this city and spiritual movements will sweep the community starting with teens who've experienced the power of the Gospel in their lives!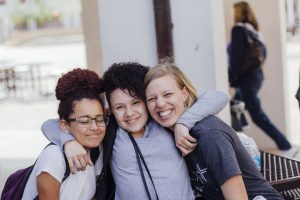 GET IN THE GAME: Connect with how God's moving in Orlando!
Give to Madi's ministry – give.cru.org/0726129
Come along on the experience through Madi's photos on Instagram 😀
Be Encouraged by stories of God working in Orlando through Madi's monthly newsletter – email Madi and ask to be on the email list @ madison.frink@cru.org. 
Go back to Local Outreach at TCC.
Go back to Global Outreach at TCC.