Romans 15:20 – Using creative platforms to reach those furthest from the reach of the Gospel.
Go to a place where the Bible and its wisdom are rare and religious gatherings must be registered. Show your education and experiences in order to influence future leaders while making friends to last a lifetime and leaving a legacy in one of the least reached countries in our world today.
Click here to show your interest in getting more information on short-term service abroad, host home or business here, volunteering to assist with either, or serving on the Romans 15:20 Outreach Care Team.
The area highlighted below, commonly referred to as "The 10/40 Window," is home to 88% of those who don't know Christ in our world today. Yet, only 8% of mission workers are focused there and less than two cents of every $100.00 given to outreach in the U.S. goes there.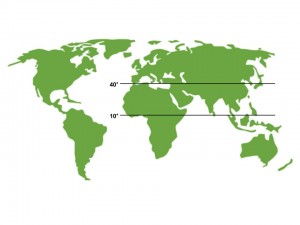 In Romans 15:20, Paul tells believers in Rome  that he has made it his personal ambition/pursuit/passion to take Christ where His name has not been shared. At TCC, we want to partner with others who share this ambition.
GET IN THE GAME:
Understanding these areas of the world are closed to conventional missions, TCC is using business, educational and social enterprise platforms to develop redemptive relationships with future leaders and thought shapers in these countries.
Opportunities to influence the most unreached in our world today exist in abundance. You can go to them on a short term venture, utilizing your education, training and experience OR you can influence these unreached from right here in Raleigh, maximizing opportunities through hospitality to influence the unreached in your workplace or home.
If interested in learning about this strategy and how you can get involved, click here. If you have questions or want more info before signing up, email us at:  TCC Romans 15:20.
Go back to Global Outreach at TCC