Is Jesus Better?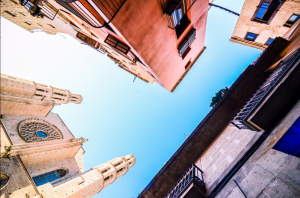 When I was a freshman in high school, I remember talking to an older Christian who was trying to be a leader to me. I asked him how it is that "religious people" (as I called them), were able to resist the temptation to have sex before marriage. He didn't answer the way most would, with a personal testimony or simply explain his reasons. He answered logically. He said "well, they must receive more pleasure from Jesus than sex would give them."
That idea changed my life. I started to realize that life as a Christian wasn't about purity or religious behavior, but about pleasure, satisfaction, and joy. If God desires purity, it's because purity is more pleasurable. It is God's desire that we should be as happy as possible. But in Him, not in the pleasures of this earth. Jesus is more pleasurable than all other things that pull at our hearts. As Psalm 84 tells us, "a day in your courts is better than a thousand elsewhere." Here, we can see that God is more satisfying than anything else on earth.
But is He really?
Salvation in Jesus and eternity in Heaven with God are these big lofty ideas that are hard to think about. Can they really compete with the quick pleasures of being drunk? Can they really compete with the draw to a comfortable life? Is Jesus really better than all these things, for real?
In the next several blogs, we're going to explore if and how Jesus can really be better than all of these things. For this one, I want to examine some of the more abstract truths that must be true in order for Jesus to be more pleasurable.
1. We must be, as humans, composed of more than just a physical self.
Here's why I say this. Pleasure only comes when there is desire. I don't enjoy food if I'm already stuffed. There must be some degree of hunger. Desire for something comes from the way we're created. So if we are to have pleasure in Christ, and his spiritual salvation, there must be spiritual desire within us, and there must be a spiritual self that is as real (and if He is to be more pleasurable, more real) as our physical self. Here I want to draw a distinction between the kind of desires, or hungers, we experience in life. Some are physical: the desire for food and sex. Others are spiritual: these are the longings that pull us toward Jesus.
2. Spiritual pleasure must be more powerful than physical pleasure
In 2 Corinthians 4:16, Paul writes "So we do not lose heart. Though our outer self is wasting away, our inner self is being renewed day by day." Paul noticed this spiritual self with its desires and the physical self with its desires. But for Paul, they are not equal. He is content to let the physical self waste away. Why? Because the spiritual, inner self is being strengthened day by day. This means that the spiritual self must be one that is not worth losing, while the physical self can easily be given up. Let's face it. A Christian will not have as many orgasms in their life as someone who has no apprehension towards casual sex or masturbation. So quantitatively, the other person would have a pleasurable life. However, in the next verses, Paul explains why he's ok with the physical self wasting away.
"For this light momentary affliction is preparing for us an eternal weight of glory beyond all comparison, as we look not to the things that are seen but to the things that are unseen. For the things that are seen are transient, but the things that are unseen are eternal."
Here, Paul is explaining that physical pleasures must be less powerful, simply because they cannot last as long as spiritual pleasure in Christ. Even if we take the long view of life and deny momentary physical pleasures (sex, drugs, etc.) for more sustainable physical pleasures (retirement, vacations, good career, etc.) it is still temporary, because the physical body is temporary.
3. Pleasure in Christ must be able to compete in brief moments of temptation
It is of little use to realize that Jesus is better long-term and not be able to fight for pleasure in Him in each small moment of temptation. After all, what is the long term if not infinite small moments combined? So there must be a way that Jesus can shine brighter than the flashing lights of temptation that we see along our path each day. It's true. The pleasures that we see in Christ are not dominantly physical, like the pleasures of sex or comfort food. The physicality and immediacy of these pleasures are what makes them so tempting. But can our spiritual hunger burn as strongly as our physical hunger, and lead us away from sin and into Jesus? If our desires for Jesus (remember, pleasure doesn't come without desire), can be as strong in any moment (not just in the big picture of life), as physical desires, then Jesus' pleasure truly can sustain us through the moments of temptation. So can those desires become as strong? They must. Psalm 42:1 says that "As a deer pants for flowing streams, so pants my soul for you, O God. My soul thirsts for God, for the living God." The psalmist compares his spiritual hunger to a real, strong, physical thirst. This must mean that desire for God can be as strong in any moment as desire for water, food, sex. This is the "way of escape" from temptation that Paul points to in 1 Corinthians 10:13. There is within us a desire for God that is as strong as our physical desires. That's why millionaires still feel empty. That's why addicts can never get enough. Instead of meeting our spiritual desires with the living water of Jesus by drinking in His word and sharing his gospel and rejoicing in Him, we try and cram more physical pleasures into our soul, hoping it will plug the leak that longs for spiritual belonging in the Kingdom of God.
Jesus really is better
I am becoming more and more confident each day that the pleasures we have found in Christ are so strong that they really do compete with any kind of temptation. Over the next few weeks we'll examine some specific temptations and look further into how to seek the pleasures of God in the midst of them.