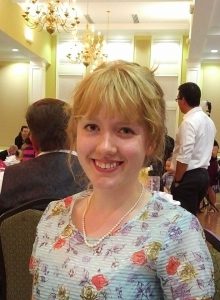 Every once in awhile, God seems to take my environment around me, especially nature, and snap it into focus in such a way that it brings some clarity to my own heart.
I pass a lot of trees on my way to class every day. Back in the fall, I watched as the trees changed and shed their leaves. However, certain trees–oak trees on closer inspection–did not. I figured this was a fluke and, as I walked back from my last exam, I thought that by the time I got back on campus in the spring, those oak trees would be bare.
But a few weeks ago, on my way to my first classes of the semester, snow still on the ground, I saw that, while all the other trees were empty, rusting leaves still drooped across my path. Somehow those oak trees had defied the bitter conditions of winter so far. And, for some reason, as the weeks progressed that started to kind of irk me.
Last week things really came to a head. I started seeing signs of spring; red robins rustling in the shrubs, tulip trees blooming in the quad, green shoots starting to come up all over campus. Even the air started to smell like new things.
I didn't get it–why were these oaks clinging to dead things? Why were they holding onto brittle memories of the past, when the promise of new things was right there, just a few more certain movements of the earth away?
And it hit me, more gently than I deserved, that I do the same thing. It's a spiritual bad habit. While I know there are natural environmental and scientific reasons for some trees, particularly oaks, to hold onto old leaves, I realize there are also reasons for me trying to carry old things into new seasons of life.
Clinging to dead things
Sometimes, I cling to things I wanted–dreams, desires, even people–until they become the worship of self-made idols. Some of them were sinful things from the start, but some of them were beautiful things that God provided me with in a certain season, but aren't meant to be with me in the next. In the latter instance, I often hold onto them in the hope that God will reanimate them. That if I show God how miserable I am without them or how important they are to me, then He'll let me keep them. That if I'm stubborn and, ultimately, if I'm selfish enough, I will get what I want.
Other times, my selfishness is not quite so clear because it is shrouded in fear. I want to hoard what I've been given in the past because, whether I acknowledge it or not, I genuinely don't believe that God will provide something else. It's as if I think it's the last nice thing I will ever receive. I'm not content to trust in the enoughness of Jesus because I don't see Him as my source. I see Him at most as the current pushing the water toward me–not as Living Water Himself.
Last week, when I saw the oaks–the deadness highlighted by a brilliant blue sky–the first thing that popped into my head was Isaiah 43:19
Behold, I will do something new,
Now it will spring forth;
Will you not be aware of it?
I will even make a roadway in the wilderness,
Rivers in the desert.
There's so much beauty in this verse, but what always catches me is the question, "will you not be aware of it?" My instinct is to say "Of course I will!" How could I miss things as big as roadways in the wilderness and rivers in the desert?
But I think it's the human, sinful, fleshly thing to clutter up our view of God and what He's doing. I clutter it up with idolizing or resenting other people, with wanting things God has sovereignly chosen not to give me, with "what if's" and "if only's" and heartbreaks and stubbornness.
After Isaiah 43:19 popped into my head, I decided to poke around Isaiah some more. I read the first chapter. It's long, but I would strongly recommend reading it right now. Essentially, in this passage, God is rebuking His people for offering faithless sacrifices, meaningless celebrations, and rituals while their hearts were still caught in and pursuing sin. God still promises that He will wash away the reddest of sins until His people are like white wool, but He's not content with how things are going. There has to be a change. In verses 29-30, it says:
Surely you will be ashamed of the oaks which you have desired,
And you will be embarrassed at the gardens which you have chosen.
For you will be like an oak whose leaf fades away
Or as a garden that has no water.
Some commentaries I found suggest that the oaks and gardens being discussed here are in reference to the nature worship of pagans. God is making the guarantee that looking to anything or anyone else for salvation and satisfaction is going to end in the most extreme form of disappointment.
Trusting in new life
Where is my trust? I might not be looking to pagan gods, but when I hold onto dead things, remnants of past seasons of life, I am putting the belief that something other than God is worth my trust and, essentially, my worship.
I don't want any other source for my sustenance. I don't want to hoard manna–it will decay and turn to dust in my mouth. I don't want to choose any other gods in place of my Redeemer, who still, always, takes the blood red of my sins and turns it white as snow.
Psalm 1 says:
How blessed is the man who does not walk in the counsel of the wicked,
Nor stand in the path of sinners,
Nor sit in the seat of scoffers!
But his delight is in the law of the Lord,
And in His law he meditates day and night.
He will be like a tree firmly planted by streams of water,
Which yields its fruit in its season
And its leaf does not wither;
And in whatever he does, he prospers.
I want to be a tree that seeks Jesus as my only source, who follows God's turning of the seasons, and yields beauty in His timing.
I want to trust His love, power, and wisdom to heal, to satisfy, and to create something new in me.